06.01.2019 – 🌞 7° C
After a first night on Board we woke up to a stunning sunset while entering the port of Marseille.
As the center is in quite a distance to the port, we take a shuttle bus and explore the city by foot. The Basilika Notre Dame de la Garde , high above the city is a masterpiece built in Romanesque-Byzantine style with marble from Florence.
We enjoy the beautiful view and even spot the Château d'If. This fortress is famous in Alexandre Dumas's novel "The Count of Montekristo".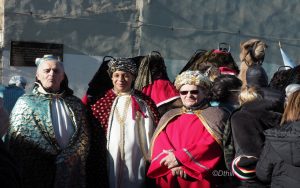 We even cross the three wise men with their Camel's as it is Epiphany (Three Kings' day)
The Old Port of Marseille is at the end of the Canebière, the major street of Marseille. It has been the natural harbour of the city since antiquity and is now the main popular place in Marseille. (wikipedia). The mix of old and new architecture is very pleasant.
The old storage halls have been transformed into a modern shopping center with covered courtyards all varying in color.
Nächst Etapp: Barcelona
Next port of call: Barcelona
Distance Marseille – Barcelona : 190 NM (Nautical miles)