Los Angeles – City of Angeles – wou d'Dimensiounen einfach nëmmen enorm sinn. Eigentlech sinn et am ganzen 90 Dierfer an Stied déi Los Angeles bilden. Déi ganz Infrastruktur ass ob den Auto ausgeriicht mat 6 spuregen Autobunnen an kilometerlaang Boulevarden. Den Hafen leit dann och eng gutt 40km vun Downtown Los Angeles ewech. Mir klappen eis duerch an fueren mam ëffentlechen Bus an den Zentrum – duerfir brauchen mer eng gutt annerhallef Stonn.

Beim Los Angeles County Museum of Art (LACMA) steet eng Skulptur "Urban Light" vun 202 restauréierten alen Stroosseluuchten déi och owes liichten.

Duerno ginn mer ob den Farmer's Market eppes Iessen. Dësen iwwerdeckten Maart gëtt et zanter 1934 an ass haut virun allem wéinst sengen lokalen Bioproduiten bekannt. Direkt derniewent ass eng ganz uspriechend Shoppingallée " The Grove" déi un en Fräizäitpark erënnert, typesch Amerikanesch.
Duerno geet et weider – nach ëmmer ze Fouss- bis ob den Hollywoodboulevard an den onëmgänglechen "Walk of fame".
Mëttlerweil ass et schonns spéit an eist Ziel ass fir den Sonnenënnergank ze Fouss um Griffith Observatory ze sinn. Duerch den villen Reen sinn sämtlech Weeër ewechgeschwemmt- an praktesch ob allen Véieren klammen mer den Hiwwel erop.
Fir zeréck an den Hafen brauchen mer dann gutt 2 Stonnen well schon's verschidden Bussen net méi fueren – zum Schluss mussen mer dann nach en gutt Stéck ze Fouss lafen fir iwwerhaapt erëm bei d'Schëff ze kommen. Am Total sinn mer eng 20km duerch LA gelaf an wëssen wat mer geleescht hunn.
---

Den 2. Dag fueren mer mam Bus ob Santa Monica mat senger legendärer Plage an dem Pier wou d'Route 66 ophält.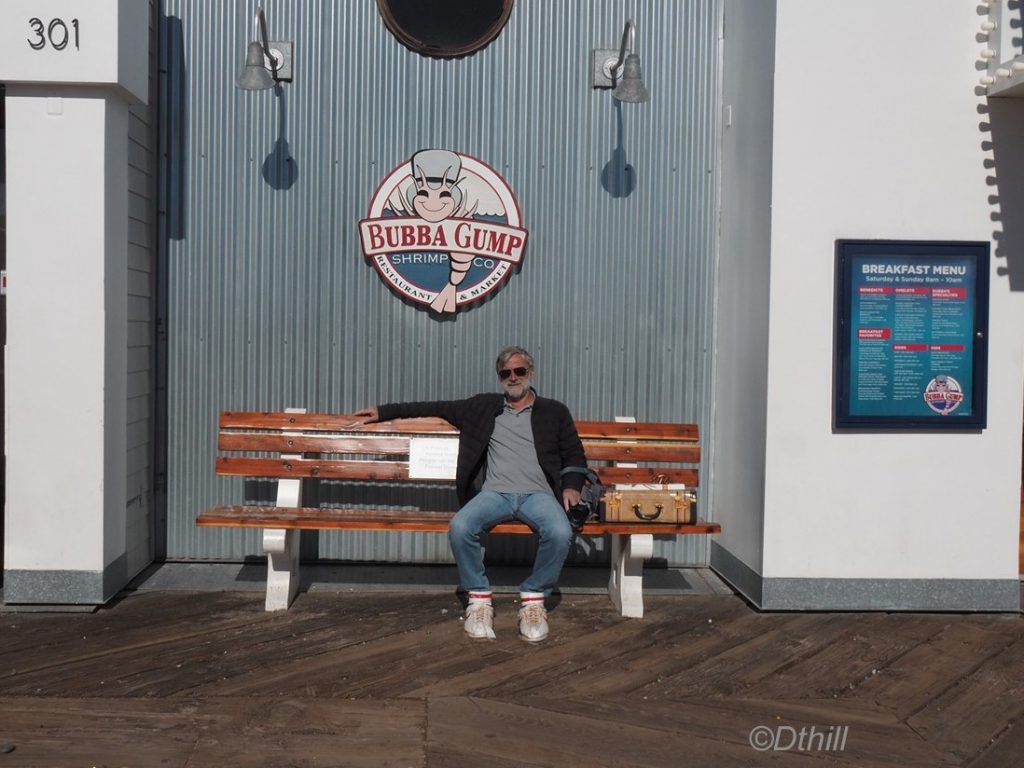 Run Forest run.. déi legendär Platz wou den Forrest Gump um Santa Monica Pier ukennt an seng Bubba Gump Shrimps Co. grënnt -elo och eng Restaurantsketten an Kalifornien.
Och en kuerzen Stopp zu Beverly Hills mat dem legendären Rodeo Drive ass en Must wann een zu Los Angeles ass.
Nächst Etapp : San Francisco
Distanz Los Angeles – San Francisco: 386 Séimeilen – 1 Séidag