Um Enn vum 1. Weltkrich ass den dätschen an engleschen Deel vun Samoa vun der UNO ënnert Virherrschaft vun Neiséiland gestalt ginn – well ugeholl ginn ass dat d'Bevëlkerung sech net selwer verwalten kéint. .
D'Neiséilänner waren ni wëllkomm an nodeems 1918 d'Bevëlkerung ganz schro vun enger Grippewell déziméiert ginn ass, déi duerch en Schëff ageschleeft gouf, ass den Widderstand ëmmer méi grouss. .
No jorelaangem Kampf ass Samoa 1962 onofhängeg ginn. Bis 1997 war et Western Samoa. Haut ass et den Onofhängegen Staat vun Samoa – kuerz Samoa an besteet aus 2 méi groussen Haaptinselen an 4 klengen Inselen. Ob den 6 Inselen wunnen ronn 196.000 Awunner – dovunner 2/3 ob der Insel 'Upolu ronderëm d'Haaptstad Apia.
Si hunn hier Kultur wäitestens bäibehalen an haut gëllt ob der Insel den Fa'a Samoa– genau wei ob dem amerikaneschen Deel.

Ob eisem Tour iwwert d'Insel 'Upolu kréien mir en gudden Abléck an d'Dispositioun vun hiren Dierfer an Haiser. D'Haiser sinn ewéi d'Fale'en komplett op an ouni Tëschenwänn.
Extrait aus dem guide de bonne conduite :
Whether you are a guest or simply passing through a village, please observe these customs as a sign of respect.
Follow the Samoan Way:

– Always ask villagers for permission before taking photographs, using the beach, or engaging in other activities, however unobtrusive your actions may seem. Permission will almost certainly be granted.
– In a traditional home, called a fale (fah-LAY), sit down on the floor before talking, eating, or drinking. Cross your legs or pull a mat over them; it is impolite to stretch out your legs uncovered.
– Sunday is the day for church, for rest, and especially for quiet around the villages. Activities that are acceptable on other days, such as swimming, may not be permitted on Sunday.
– Each evening around dusk, villagers observe a time for prayers called Sa. If you are entering a village during Sa, stop and wait quietly until Sa ends. You may even be invited to join in a family prayer. It is not necessary to stop for Sa on the main roads.
– It is considered an honor to be asked to share ava (a local drink made from the root of the pepper plant). To show respect, spill a few drops on the ground or mat in front of you, then raise your cup andsay "manuia" (mahn-WE-ah) before drinking.
– Do not eat or drink while walking through a village.
Den Terrain gehéiert den Awunner – an esou guer fir ob d'Plage muss een den Accord vum Besëtzer froen (an Entrée bezuelen).
D' To-Sua Ocean Trench sinn Lavablosen déi mam Mier verbonnen sinn an wou een dran schwammen kann. Dat ganzt ass an engem schéin ënnerhalen Park mat enger super Vue.
D'Insel un sech ass vulkanesch, an den Zentrum ass vun Bierger, Palmenbëscher an Riesenfarn iwerséit. D'Küst huet deels ganz schei Plagen an ass bekannt fir seng Koralleriffer.
Eis Buschauffesch ass houfreg hiren traditionellen Tattoo ze weisen. Männer wéi Fra'en kréien als Zeechen vun Erwuessenen en Tattoo deen jee no Zougehéieregkeet aneschters gemustert ass.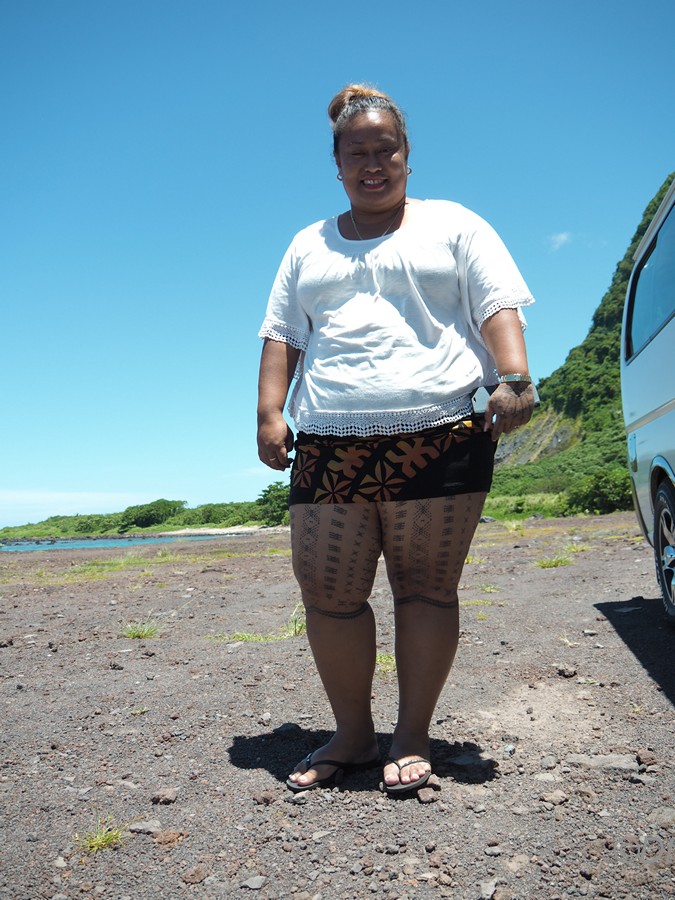 Immaculate Conception Cathedral – kathoulesch Kathedral zu Apia
Apia – Busarrêt an Haaptstrooss
Next Etapp : Nuku'alofa – Tonga
Distanz Apia – Nuku'alofa : 548 Séimeilen + 1 Séidaag