This post is part of a series called
Biketours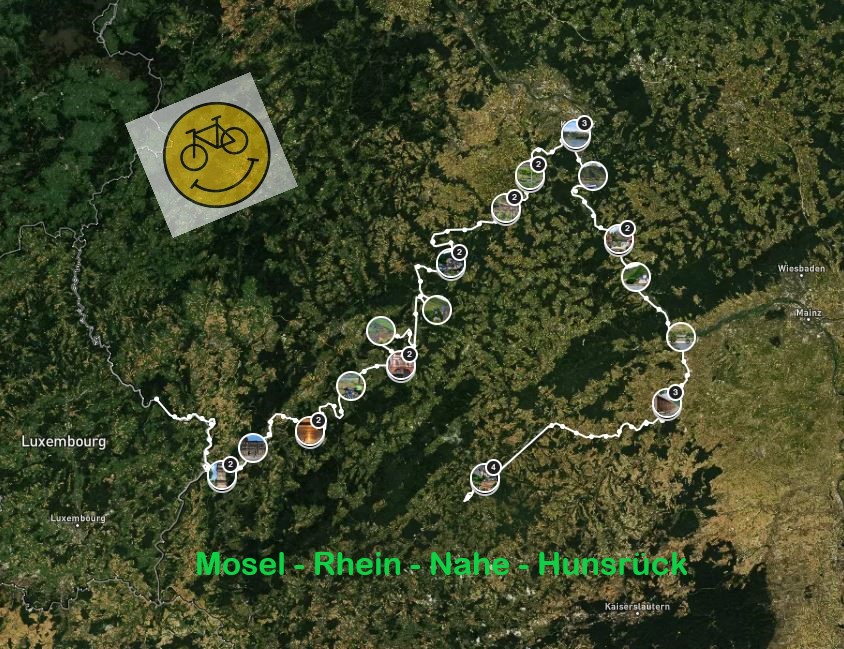 with a rather abrupt and painful ending….
So we started our journey right on our doorstep and cycled along the Sauer to Wasserbillig where we longed the Moselradweg. Visiting the Porta Nigra in Trier with the bike was a special experience as we normally do only a little bit of shopping there.
The whole cycling along the Mosel took us 4 days. We already knew the region from numerous Motorbike- and Camper tours, but we discovered small romantic wine villages and vineyards you could never see from the motorway.
We stayed a day in Koblenz, relaxing our legs (so instead of biking we walked 11km while visiting) 😜 We continued until Bingen along the Rhine, always on bike lanes. Indeed the whole trip was planned on bike lanes.
In Bingen we left the Rhine an biked along the Nahe until Idar-Oberstein, the capital of the Gemstones. During the whole trip, with the exception of the first day we were at least once soaked with rain.
On our 8. day we left Idar-Oberstein for a lap we knew would be a little bit more sporty. After 3 climbs of 20% and only 15km it was about to happen…while cycling uphill, the bicycle chain came off and I was not quick enough out of the pedals clickets.
Result: I broke my wrist and we were forced to stop our trip after a total of 420 km.
I have been operated last week and for the next 5 weeks no motorbike or bike.
It was our first trip after the Corona crisis and a little bit strange to stay in Hotels and visit Restaurants with all the new sanitary measures. We experienced nearly every possible situation from having served food without a mask or having served breakfast in our hotel room. But travelling is still possible and we enjoyed our little trip until the silly accident. We will finish the tour on another trip…
Enjoy the pictures.